Just like we charge our cell phones every day, we need to charge our electric vehicles (EVs) as well.
To do so, you need to understand the various levels of EV charging. There are three levels to charge a 100 miles battery fully. Level 1 can take up to 17 to 25 hours, level 2 can take up to 5 hours, and level 3, which is also known as DC fast charger, can take up to 40 minutes.
For level 1 charging, EV drivers usually plug the charger in the regular AC grid at their place that can charge the vehicle overnight. However, for level 2 and level 3 charging, they can either install chargers at their place or use charging stations in public.
Talking of public charging stations, there are outstanding benefits of EV charging stations for businesses. They can immensely boost their revenues by installing an EV charging station on their premises. Let's look at some businesses that can leverage EV charging benefits!
Restaurants and Cafes
Visitors normally take somewhere between 30 to 90 minutes to enjoy their brunch or meal. It will be pretty convenient for them if the place has an AC and DC fast charger station. They can simply charge their electric vehicle while enjoying themselves at the restaurant or cafe. This provides restaurants with abundant opportunities for more food orders while EV owners are idling; eventually adding up to more profitability. This helps in enhancing billing with the increased number of footfalls.
Corporate Parks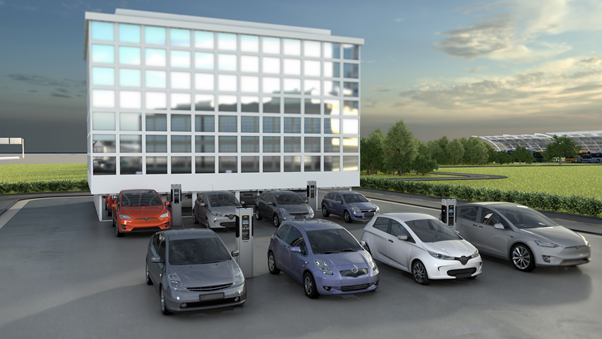 An EV charging station benefits all the stakeholders of corporate parks. Employees, working with the corporations in these commercials, take advantage of their working hours for charging their electric vehicles.
Clients can benefit while visiting such corporates for meetings taking with them an impressed mindset. As a result, companies will start looking out for corporate parks with EV infrastructure. Therefore, it is beneficial to build an EV charging station.
Shopping Malls and Multiplex
Visitors to malls and multiplexes can benefit while shopping or watching movies. They get attracted to these places over and over due to EV infrastructure. They don't have to spend time especially charging their vehicles. For this reason, visitors may stay a little longer till their electric vehicles get more charged leading to spending more.
Furthermore, EV drivers tend to utilize EV applications for identifying nearby charging stations. This can put malls and multiplexes on the map of applications. Whilst saving time, EV owners tend to shop or spend in such places thus profiting various businesses within.
Hence, Electric Vehicle charging station installation in these places can attract more visitors leading to optimized sales.
Fuel Stations
Soon enough, the electric vehicle will be as popular as the fuel-based vehicle. For maintaining and enhancing footfalls, it is essential that fuel stations start building EV infrastructure alongside to be prepared for the future of conveyance.
Hotels and Resorts
Visitors spend at least a night or two in a hotel or resort. During this period, they require EV charging to be able to travel around and back. Hotels and resorts with EV charging stations provide additional benefits to their customers. They can also charge a minimal amount for utilizing EV stations or can provide it as a complimentary service. Either way, it is beneficial for them monetarily as well as socially.
It shows their contribution towards sustainability while going the extra mile to provide better facilities to their residents.
Conclusion
EV drivers usually try their best to charge their vehicles while visiting places rather than having to spend time for it exceptionally. Hence, places with EV infrastructure get much more significance in comparison to those without.
For the best EV charging solutions and services across India, Griden Power is the ultimate and safe electric vehicle charging station company in India.